Another carrier from the AgoraChelseyline, the Roller is our airline-approved pet carrier designed for those longer treks like trips to the vet, or across the country!.
Made to be super comfy for your pet, it can be carried in multiple ways andfor any occasion you can think of: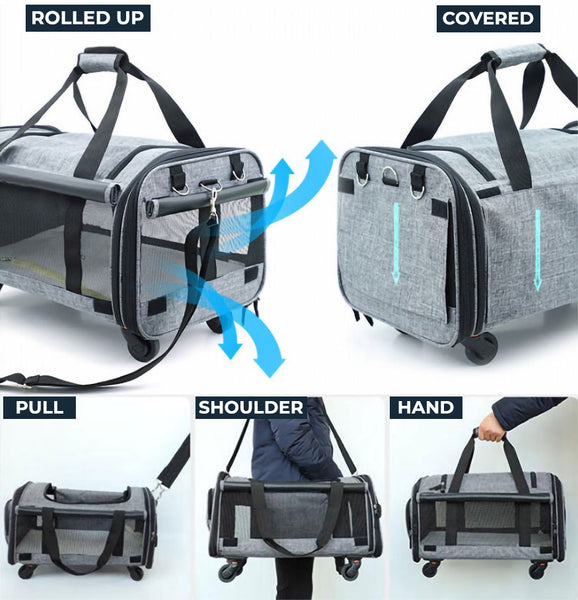 Maximum Comfort, Easy to Clean
Like our backpacks, there's an internallead and hookfor yourpet's collar or harness,with a soft bottom design for added comfort. It can be disassembled and cleaned in the case of a "happy accident". When not in use, you can fold it up and put itaway.
Wheels aredetachableand can be easily removed.
Packs a Ton of Features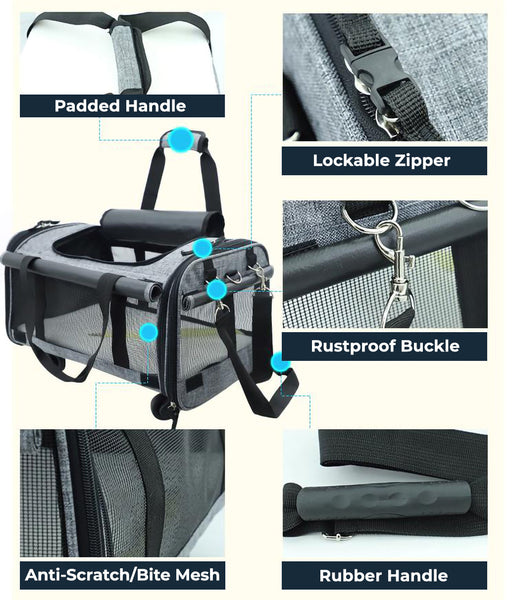 Sizing
Chelseystandard size has high load capacity, and will fit any petup to22 lbs.
The large can hold as much as35 lbs, so you can have several pups or cats traveling together!The X-large can hold up to50lbs, so you can haveheavy big pups or cats!
Dimensions
Standard:
Length: 20 inches / 50 cm
Width: 12 inches / 30 cm
Height: 13 inches / 33 cm
Large:
Length: 23.5 inches / 60 cm
Width: 15 inches / 38 cm
Height: 12 inches / 30 cm
Extra Large:
Length: 27.5 inches / 70 cm
Width: 15 inches / 38 cm
Height: 13.5 inches / 35 cm
Please note that theExtra Large is not airline approved!