Introducing the CushyPaws Pet Bed – Where Cozy Meets Luxury!
Is your beloved pet deserving of the ultimate comfort and style? Look no further! Our round CushyPaws pineapple bolster pet bed is the answer. Designed for both cuddly cats and dogs, it's a haven of relaxation that promises more than just a good night's sleep.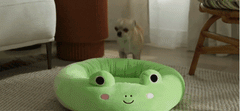 Cushioned Bolsters: Experience the joy of plush bolsters, creating a natural headrest adorned with adorable pineapple design details.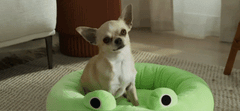 Supreme Comfort: The sleeping area is generously stuffed with polyester-fiber filling and boasts a unique squishy fabrication covering the outside. It's the epitome of comfort for your beloved pet
.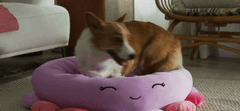 Easy to Maintain: Authentic CushyPaws pet beds are a breeze to keep clean. Simply spot clean as needed to maintain their pristine appearance.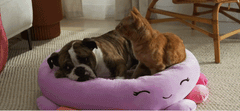 But that's not all! When you join the CushyPaws Squad, you're not just getting a pet bed; you're bringing a touch of luxury into your pet's life.
Additional Features:
Non-slip bottom for added stability
Grow your CushyPaws Squad with this super-soft pineapple bolster pet bed
Soft, snuggly, and built to last, with a non-skid bottom
Your pet deserves the best, and our CushyPaws Pet Bed delivers. Experience the blend of coziness and luxury that will make your pet's dreams come true. Order now and treat your furry friend to the comfort they deserve! #CushyPawsPetBed
Sizes: